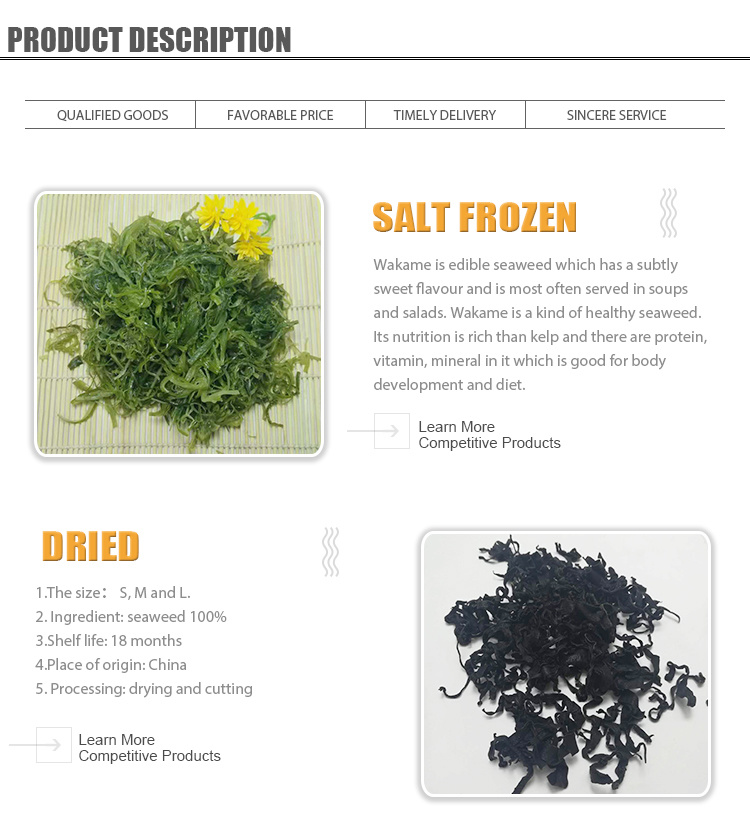 History as food:

In 1867 the word "wakame" first appeared in an English-language publication, A Japanese and English Dictionary, by James C. Hepburn.
Starting in the 1960s, the word "wakame" started to be used widely in the United States, and the product (imported in dried form from Japan) became widely available at natural food stores and Asian-American grocery stores, due to the influence of the macrobiotic movement, and in the 1970s with the growing number of Japanese restaurants and sushi bars.
Wakame fronds are green and have a subtly sweet flavour and slippery texture. The leaves should be cut into small pieces as they will expand during cooking.
In China, it is called qundaicai.
In Korea, it is called miyeok and used in salads or soup.
In French, it is called "fougere des mers".

Health function:

1. Compound in wakame known as fucoxanthin can help burn fatty tissue. Wakame is also used in topical beauty treatments.
2. In Oriental medicine it has been used for blood purification, intestinal strength, skin, hair, reproductive organs and menstrual regularity.
Frozen salted wakame stem cut
Other name
Shredded wakame salted, Frozen salted wakame cut
Botanical name
Undaria pinnatifida
Origin
Shandongand Liaoning privince, China
Packiage
15kgs carton
Gross weight
15.75kgs
Quantity/40' fcl
26250kgs/1750cartons
Appearance
Short and equal strips, cut across wakame stem
Color
Normal green
Length
4-5cm
Width
1-2mm
Swelling
2.0~2.5
Mineral impurities
None
Period of validity
3 years in frozen place